serves 4

1 lb. about Corned Beef
2 cups roasted, boiled or cooked potatoes ( any kind)
1 cup diced onion
Oil for frying
Salt and Pepper
optional
You can use left over mashed potatoes instead.


Optional
4 eggs
Chopped Parsley


| | | |
| --- | --- | --- |
| For this style of Corned Beef Hash you need to chop it all the ingredients together very fine. You can also put them through a meat grinder, or pulse in a food processor. | With about 2 tablespoons of cooking oil fry the hash for about 10 minutes turning frequently. The idea is to brown all of it a little making it crispy and blend the flavors. | Meanwhile get your water ready to poach your egg. You heat the water. add a tablespoon if vinegar.(inexpensive is fine) and then stir the boiling water with a spoon and drop the egg into the whirlpool. |

Here is a close up of what the Hash ooks like nicely browned and crispy.

You can use all kinds of goodies that are too good to throw away. Throw in a bit of Spinach or other green vegetables.

Here I had leftover Colcannon, ( mashed potatoes with greens, bacon and onion. I used them in place of chopped potatoes. They worked fine!
More recipes and Links
(Some Irish Recipes)
Search for Food History Articles
Learn how to make your own corned beef with this book and kit with curing and spices



Also the Perfect Corned Beef and Cabbage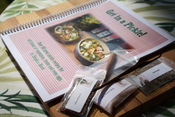 Get it all in this book, plus curing salt and spices for making your own Corned Beef.


We explore recipes, and their history and how to best make
them with step by step pictures.

Read latest Issue of "Tasty Bites" Newsletter
Pickling Spice, 1 Lb Jar
Meat Marinade Injector - Commercial-Grade stainless steel heavy duty injector with 6" detachable needle with 12 holes. .
Traditional Irish Boiling Bacon
The Irish Country Kitchen
Feasting Galore Irish-Style: Recipes and Food Lore from the Emerald Isle
;