I did this stew in a layered manner that is to some Irish a traditional way to make it.
1. Place the Stew in Crockpot.
2. Next I added the shredded potatoes and the the herbs and the salt and pepper.
The shredded potato will cook down so it will thicken the stew.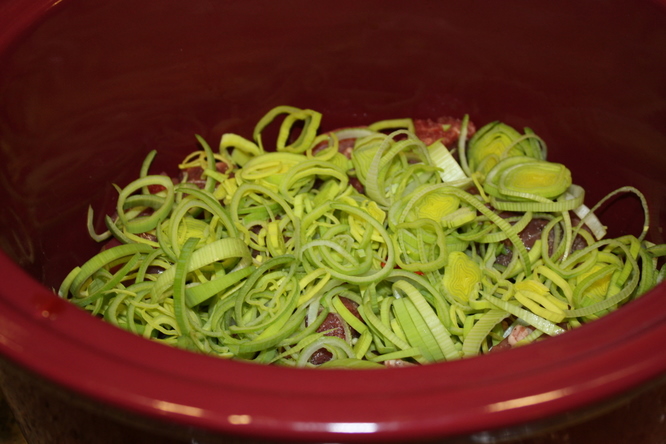 3. Add the leeks.
you could substitute some 1 / 2 inch diced chopped onions.
4. Next Layer on the vegetables and the chunks of potatoes and other vegetables.
5. Add the water or stock and beer and turn onto high, then turn to low.
If you are going to be gone all day just keep it on low.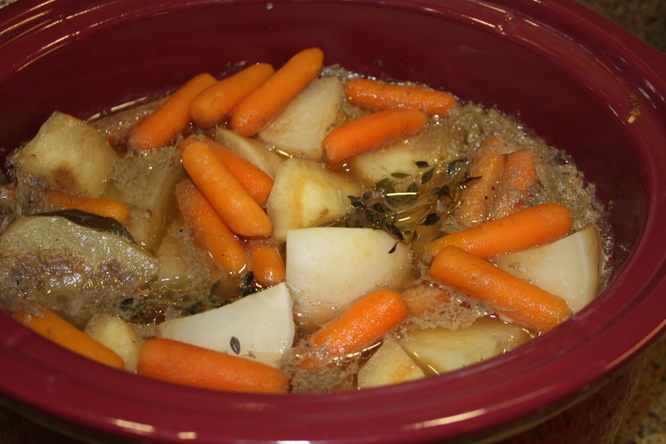 Cook for 4 hours or so till the vegetables are tender.
If it is simmering, then you will know after 4 or 5 hours that the meat will be tender.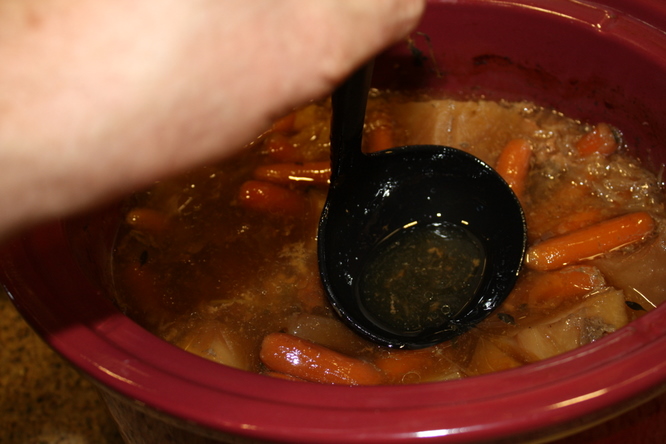 6. Skim the fat off the top.
Then remove most the vegetables and meat to a platter so I can thicken the gravy.
8. I like to thicken the gravy with a hand held Immersion blender.
You can use any blender or just leave it as it is. The blending will make it
look so much better. You can add a tablespoon of mild paprika to
improve the color.
Serving Suggestion:
I then ladled some of the gravy into a heated bowl.
Then I added some meat, vegetables and potatoes.
If not quite hot enough put it back in the oven until nice
and toasty.
Then I topped it with chopped parsley.
Here is the finished bowl of Irish Stew.