Get in a Pickle!

plus making your own Corned Beef
and immediate download of
How to Make the Perfect Corned Beef and Cabbage Dinner
with over 30 color step by step pictures

by Stephen Block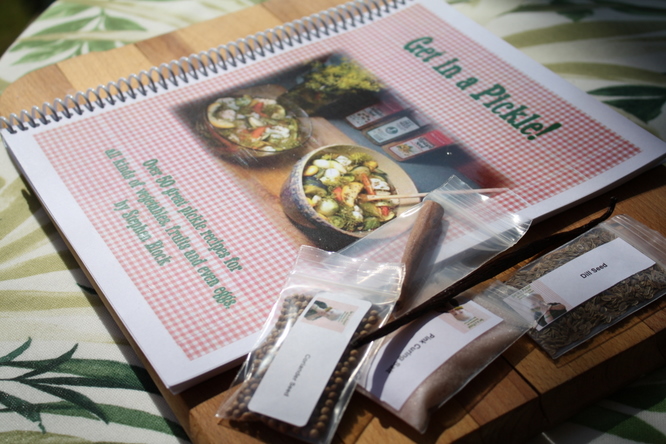 Over 50 recipes for pickling, plus spices
for your making your own Corned Beef.
Order ...Get in a Pickle!...Cookbook Here
complete with bonus CD with step by step pictures, and some hard to find spices:
pink curing salt (for the corned beef), dill seed, corriander seed, cinnamon stick and vanilla bean.
16.97
a free CD with step by step colored pictures
walks you through how to make pickles.
Pickling Basics 3
Chapter 1 , Dill Pickles 10
Your First Pickle 11
Dill Pickles 12
French Cold-Pickled Cornichons 14
French Pickled Cornichons 16
Garlic Dills 17
Summer Pickles 18
Kosher Pickles 20
Making Pickles 21
Mustard Pickles 23
Mustard Pickles 24
Quick Dill Pickles 25
Watermelon Rind Pickles 26
Chapter 2 Fruit Pickles and Chutneys 27
Amaretto Pears 28
Apple & Tomato Chutney 29
Banana Chutney 30
Cinnamon Spiced Apples 31
Ginger Pear Honey 32 Lime Pickles 33
Lime Pickles 34
Orange Onion Chutney 35
Pickled Blueberries 36
Preserved Lemons 37
Spiced Peaches 38
Sweet Pickled Cherry Tomatoes 39
Cantaloupe Pickles 40
Whole Apricots in Marsala 41

Chapter 3 Other Types of Pickles 42
Dilled Green Beans 43
Dot's Pickled Vegetables 44
Garlic Pickled Eggs 45
Making Sauerkraut 46
Old Len's Pickled Onions 47
Persian Sugar Pickled Garlic 48
Pickled Asparagus 49
Pickled Carrots 50
Pickled Cauliflower 51
Pickled Red Eggs 52
Pickled Garlic 53
Pickling Vegetables 54
Pub Pickled Eggs 55
Chapter 4 Pickle Relishes 56
Chow Chow Relish 57
India Relish 59
Kimchi 60
Pickled Corn Relish 61
Chapter 5 Sweet Pickles
14-day Sweet Pickles 63
Bread & Butter Pickles 64
Freezer Pickles 65
Microwave Bread & Butter Pickles 66
Sweet Gherkin Pickles 67
Sweet Ginger Pickles 68
Chapter 7 Great Pickle Recipes 69
Fried Dill Pickles 70
Hammer & Pickle Soup 71
Pickle Roasted Chicken 72

How to make Corned Beef!
on the bonus CD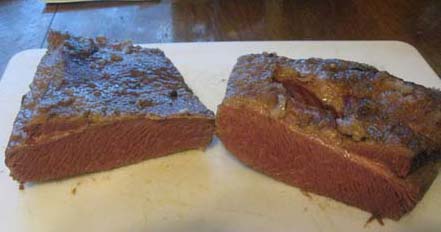 Learn to make Tasty Corned Beef and Pastrami the old fashioned way
You also get the curing salt that gives it the nice reddish color.
Plus a free Immediate Download of
How to Make the Perfect Corned Beef and Cabbage Dinner