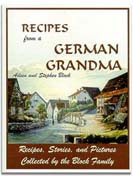 Our German Cookbook with Heritage stories
Join our free German Goodies Newsletter we share recipes and stories of our background
Spargel und Grüner Sosse
Asparagus in German Green Sauce ( a creamy sauce with fresh herbs and eggs)
4 servings

Grüner Sauce:
3 hard boiled eggs
3 tablespoons mild vinegar
1 tablespoon spicy mustard
1 teaspoon salt
1 teaspoon pepper
2 teaspoons sugar
1 / 3 cup Olive oil
1 cup (250 grams)*strained yogurt
1 / 4 cup shallot, 2 small
1 large bunch of 7 different herbs
(See below)
milk to thin if necessary

2 bunches Asparagus cooked German style
White, green or a combination
Hard boiled egg wedge




*You can use quark, creme Fraiche, or sour cream
Directions:
Traditional
Some alternatives

Borage
Chervil
Parsley
Dill
Sorrel
Burnett
Watercress
Chives

Tarragon
Lemon Balm
Dill
arugula


In the picture I could not find Burnett or Sorrel so I used dill and tarragon,
If you can't find 7 then I suggest you use what you can find, which can be great it just won't be traditional Frankfurt Green sauce.


The base of the sauce is 1 cup of strained yogurt, quark, creme fraiche or Sour cream.

Wash and let dry a bit and then chop the herbs fine.

Put the vinegar, oil , mustard, salt, pepper sugar and shallots and blend in the food processor or in a bowl and whip.

Put the egg yolks from the hard boilded eggs through a sieve that is placed over a bowl. Some folks put them right into a blender. You can also use a grater to grate the yolks.

Chop the boiled egg whites in a fine dice.

Whip in the yogurt with the dressing.

Add the eggs whites and yolks, and the herbs and fold them in.

Thin down the sauce if necessary with a little milk or if you want olive oil.

Spoon some of the sauce on the plate and then put the Spargels (asparagus) on and top with the sauce and hard boiled egg wedge.

There are many variations on this sauce, one of them is to take some of the herbs and blend them so that your sauce has a nice shade of green.
I used 1 / 4 cup of the chopped herbs here with 1 / 4 cup of yogurt and pureed them till smooth. Then I added it to the sauce.

See this really interesting product from box to plate
developed by the famous
German Manufacturer Julius Maggi
Go here to make Maggi Kartoffel Knödel
(Potato Dumplings)


Our Retail Store has moved!
Our new and improved retail store is now open in Colleyville!
The address: 5100 State Hwy 121 Colleyville, TX 76034
(817) 354-8101
Hours of operation:
Mon - Sat: 9am - 9pm
Sundays: 10am - 6pm
Do you have a question or comment on this recipe?