Emma's Potato Pancakes

(Kartoffelpuffer)
Ingredients:

6 large potatoes, peeled and grated
(2 cups mashed potatoes) Optional
4 eggs, well beaten
2 tablespoons milk
3 TB flour
¼ tsp. baking powder
1 tsp. salt
1cup finely chopped onion (optional)




Grandma would write down a recipe on whatever paper she could find, and slip it into the pages of her cookbook. This illustration is a recipe written on a "time card" from the leather-working shop where Grandpa Block had been an apprentice.
Instructions:.
Peel potatoes and keep them in water so they don't turn brown.
My mashed potatoes are on the left.
Shred the potatoes on a fine blade grater .If you only have a coarse one
that is ok, you can chop them a bit with a knife. The texture of the
Pancake is much better when they are chopped fine.
Keep them in water with a
little lemon juice or citric acid. a little vinegar will work also.
Let sit while you prepare other ingredients.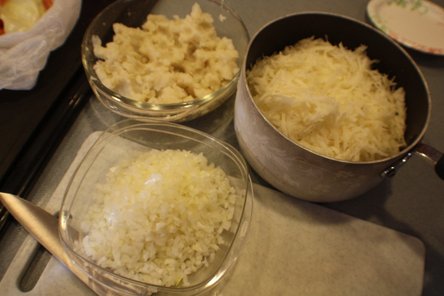 Chop the onion.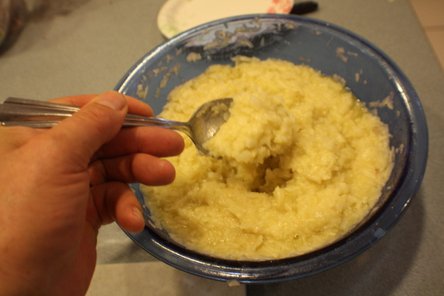 Strain the potatoes and put into a large bowl
Add the remaining ingredients.
Heat your skillet with a good amount of oil and fry small spoonfulls of batter
till golden brown. Turn and brown the bottom.
Hold on a cookie sheet or oven proof plate in warm oven and cook the
remaining batter into cakes. Don't over crowd the skillet.
They hold well and can be reheated as well.
Serve with apple sauce and or sour cream.
German Side Dishes
For bratwurst and other dishes as well
Do you have a question or comment on this recipe?