Prep time: | Cook time: | Total time: | Yield: about 20 spears , Serving size: 4 spears |
I large cookie sheet or broiler pan

1 lb asparagus spears

4 oz thin Westphalian Ham (you may substitute Prosciutto

Olive oil

salt and pepper
Directions:
Pre Heat Oven to 400 degrees F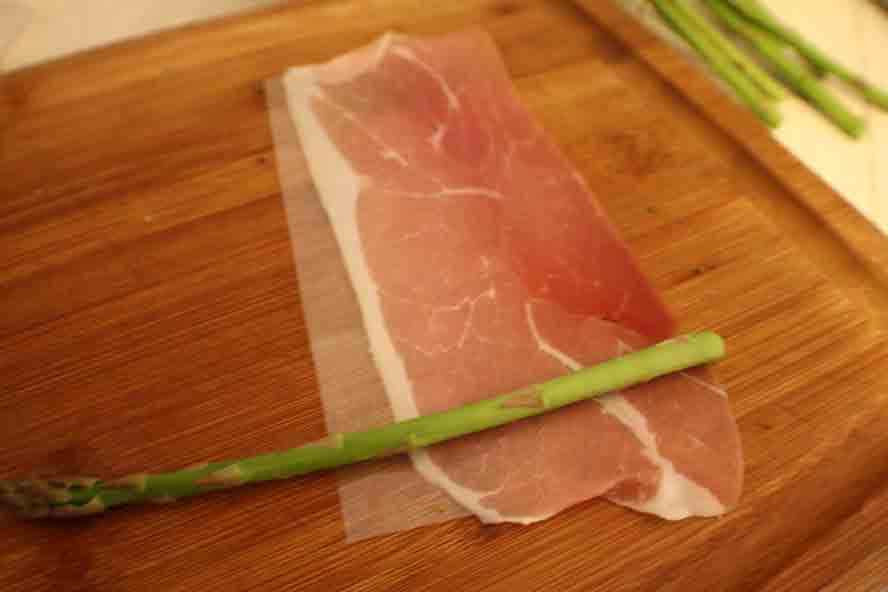 First take off the tough end of the asparagus. Then lay out the thin sliced Westphalian ham or prosciutto and put the end on the ham.
Roll the ham at an angle...
..so it goes all the way up. the stalk to the tip.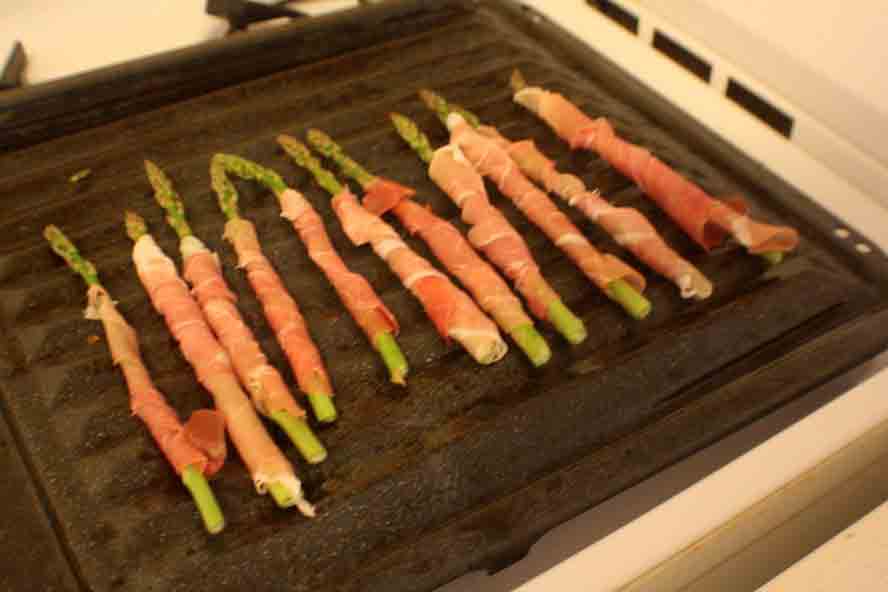 Place on a cookie sheet and brush with olive oil. Bake for 15 min at 400 degrees F till tender but still crisp.
This is a great appetizer. Here we served them with cold sliced meats and rye bread for a light meal.
The spears keep there shape well when only cooked to the crisp tender state.

You can also make this a main dish.
roduct Links and more Recipes
Looking for another recipe?
Enter your recipe request and search
Where to shop for German Foods and Things
I order from the German Deli more frequently than ever.
I try to get in bulk to make the shipping dollars count.
Also there are sales all the time I like to take advantage of.
They are nice folks. If you don't believe me call them.
and tell them Stephen Block sent you from the German Goodies Newsletter.
Shop for German Food

Go here and search for all kinds of German Food

Shop for German Clothing,
Cooking equipment for German Food,
Fun German stuff

Do you have a question or comment on this recipe?
make sure you put the recipe name in the subject line
Listen to German Music
Listen to the Chicken Dance, and download it
CD's recommendations and links

Do you have a German Name?
Also what your German name means

Do you want to learn to speak a little German?
Learn one word a day.

Explore your German Heritage
Find out if your relatives came over through Ellis Island and more good links