Himmel und Erde

(Literally means Heaven and Earth)
Ingredients:

serves 4 people

1 1/ 2 lbs white potatoes ( 4 medium)
2 apples
1 large onion
2 strips bacon
1/2 cup water
1 tablespoon honey
1 tablespoon lemon
1 teaspoon each
salt and pepper

Instructions:
1. Cut up the potatoes and apples into small chunks.

Slice the onion into rings, the bacon into chunks, and saute with pepper till golden brown.


3. Simmer the potatoes and apples in the water with the honey, lemon juice and salt.
for about 15 minutes until tender
4. Here they are perfectly tender but not falling apart.
5. Mash slightly to your desired texture.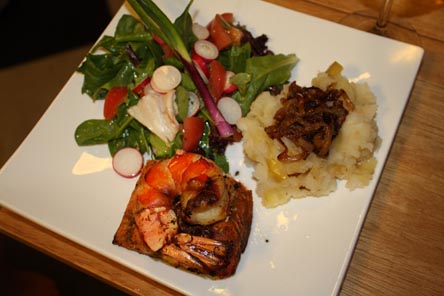 Here I served it as a nice side dish.
I topped it with the browned onions and bacon.
More German Side Dishes
For bratwurst and other dishes as well
Do you have a question or comment on this recipe?