Ingredients:
1 large jar of Sauerkraut . (approx. 3cups)
4 cups beef stock
1 cup a amber or dark beer (optional)
2 apples cut in small chunks
1 medium diced white onion. ( about 1 cup) or 2 tablespoons dried onion
2 Cured l Pork Knuckle or, 4 Ham hocks

2 teaspoons caraway seed
2 teaspoons juniper berries
3 bay leaves

Optional
2 smoked sausages

printer friendly Metric Conversion Chart



Directions: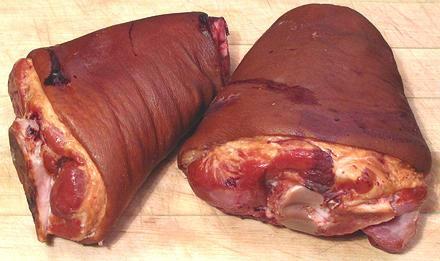 These are Cured Pork Knuckles.
They may or may not be smoked.
These are smaller ham hocks
2 per person is perfect
I rinse the juice off the kraut. The reason is that it tends to get stronger when simmered for a long time.
I added all the ingredients into the crockpot and simmered for 8 hours.
Depending on the size of your crockpot you may have to adjust the amounts. This is a pretty flexible recipe.


A great plan is to start it in the morning and it will be ready by dinner.
Product Links and more Recipes
Looking for another recipe?
Enter your recipe request and search
Where to shop for German Foods and Things
I order from the German Deli more frequently than ever.
I try to get in bulk to make the shipping dollars count.
Also there are sales all the time I like to take advantage of.
They are nice folks. If you don't believe me call them.
and tell them Stephen Block sent you from the German Goodies Newsletter.
Shop for German Food

Go here and search for all kinds of German Food

Shop for German Clothing,
Cooking equipment for German Food,
Fun German stuff

Do you have a question or comment on this recipe?
make sure you put the recipe name in the subject line
Listen to German Music
Listen to the Chicken Dance, and download it
CD's recommendations and links

Do you have a German Name?
Also what your German name means

Do you want to learn to speak a little German?
Learn one word a day.

Explore your German Heritage
Find out if your relatives came over through Ellis Island and more good links