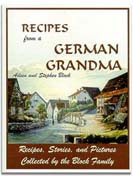 Our German Cookbook with Heritage stories
Join our free German Goodies Newsletter we share recipes and stories of our background
Sauerbraten
German style pot roast
and gingersnap gravy

with step by step pictures
In Germany, the Sauerbraten method was often used in cooking Venison or other game, as the spices and vinegar took away the "wild" taste of the meat. Most of us make it with beef, these days, and so did Grandma Block.

She often prepared this when children and grandchildren were coming to visit. We all loved it. She bought a lean roast, not too big to fit into her marinating crock, poured the spices and wine over it, and let it sit on a shelf in her cool basement for several days, turning the roast each day to be sure all sides of it were well "soaked."
Ingredients;
4-pound lean beef roast
1 cup flour

Marinade;
2 C. red wine vinegar
2 C. red wine
2 C. water
1 large onion, sliced
2 bay leaves,
3 cloves,
10 peppercorns
or *sauerbraten gewurtz sauerbraten spice

gravy
20 gingersnaps

You will need:
A large crock or bowl for marinating the roast
or a plastic container with a lid.
A large, tightly-covered kettle or Dutch Oven for cooking
First Step Marinating the Roast
Here is the first Step to assemble your ingredients.
We have 2 cups water, 2 cups red wine and 2 cups red wine vinegar.
a 4 lb beef roast. You can use round, chuck any kind of roast really.
This is a package of Sauerbraten Gewurtz ( spice) that I got from the Germandeli.com.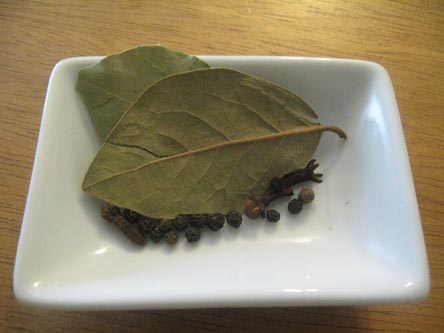 You can also use 2 bay leaves, 3 cloves, and 10 peppercorns.
Here I have added the water, vinegar and wine, sauerbraten spice and a sliced onion.
Heat the marinade to a simmer, then turn off and cool.


Pour the cooled marinade over the roast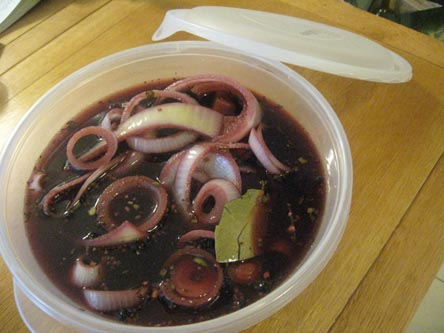 My grandma used a crock, but also a plastic container or stainless metal container works well.

This goes into the fridge for 3 to 5 days

Go here to Show how to Cook the Sauerbraten
All the spices needed in one packet for making the traditional pot roast of Germany, Sauerbraten! Instructions are written in English on the back of this packet. You add the pot roast, butter, onions, carrots, vinegar, salt, water, and pumpernickel (some flour may be needed).
Get this product at Germandeli.com


German baby dumplings with butter and bread crumb topping.
Do you have a question or comment on this recipe?