Prep time: | Cook time: | Total time: | Yield: 4 cups , Serving size: 1 cup | Calories per serving: 339 | Fat per serving: 33 gr | carbs per serving: 2 gr | protein per serving: 10 gr
Ingredients:
4 oz German Bologna
3 oz Ementaller or Swiss Cheese
2 small German style Dill Pickles

1 Tablespoon Vinaigrette Dressing
1 tablespoon juice from the pickle jar

3 tablespoons Good mayonnaise

I recommend

you make your own

but

if not use a good one that you really like.

Butter Lettuce or a good leaf lettuce

Tomato wedges for garnish(optional)
Directions:
Here I have 2 stacks of German bologna
I am going to make 2 different kinds of Fleischsalat. First the one with mayonnaise in the dressing cut in strips and one with just dressing and is chopped.

Cut the Bologna into strips about 1/4 inch thick.
You can cut them as thick as you want however. When it is thinner the flavors of the other ingredients mix better.

Cut the Emmentaler cheese or Swiss into thin strips.


I used Kühne dill pickles from Germany. They are Dill but they also have a little sweetness in them. Cut the pickles into thin strips like the Bologna and Cheese.


Put all the ingredients in a bowl and toss with the vinaigrette and juice from the pickle jar.

Carefully fold the Mayo into the mix. Chill for a while in the fridge, overnight if possible.
One way to serve Fleischsalat is on a bed of lettuce.
The name Kopfsalat means..
.head (Kopf) + salad (salat).

A very popular lettuce in Germany is called Kopfsalat
In the United States it is called Butter Lettuce, Bibb or Limestone.
Kopfsalat gets its name Butter lettuce because the leaves are rich, sweet and not bitter and "buttery". It gets the name Limestone lettuce from the fact that it grows in a very limestone based soil. Perhaps the reason it isn't so popular in the United States is that it is often 2 to 3 times as expensive. However 3 times is only a couple bucks more and definitely a great splurge. I just save the 2 bucks in another way.

Limestone is an American heirloom lettuce developed by John Bibb 1865.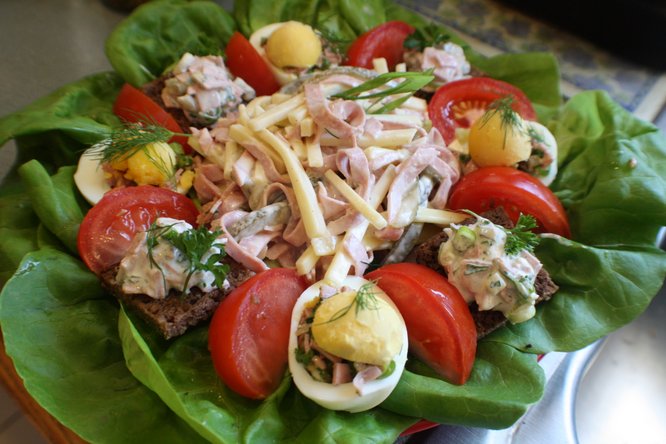 \
The Leaves make a beautiful presentation as well as delicious. Garnishes are nice I put some sliced tomatoes,
stuffed eggs and Pumpernickel with some chopped fleischsalat on it.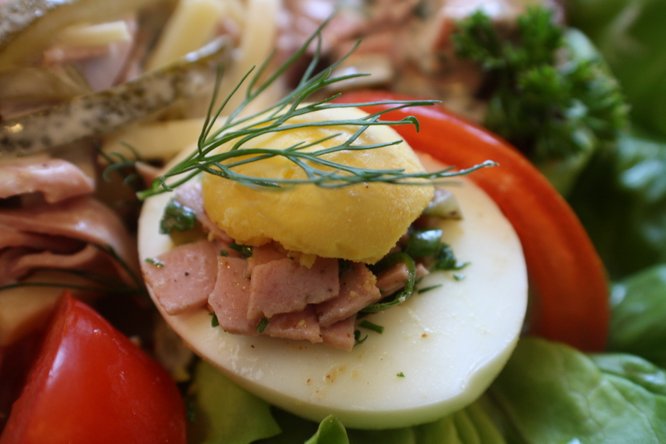 I used the chopped Fleischsalat stuffing the eggs with it
A good dark bread is a great platform for Fleischsalat, like an open face sandwich. I used
Pumpernickel. I used the chopped Fleischsalat and added a touch of sour cream to the mix.
You can also eat this like you would a lettuce wrap.
Product Links and more Recipes
Looking for another recipe?
Enter your recipe request and search
Where to shop for German Foods and Things
I order from the German Deli more frequently than ever.
I try to get in bulk to make the shipping dollars count.
Also there are sales all the time I like to take advantage of.
They are nice folks. If you don't believe me call them.
and tell them Stephen Block sent you from the German Goodies Newsletter.
Shop for German Food

Go here and search for all kinds of German Food

Shop for German Clothing,
Cooking equipment for German Food,
Fun German stuff

Do you have a question or comment on this recipe?
make sure you put the recipe name in the subject line
Listen to German Music
Listen to the Chicken Dance, and download it
CD's recommendations and links

Do you have a German Name?
Also what your German name means

Do you want to learn to speak a little German?
Learn one word a day.

Explore your German Heritage
Find out if your relatives came over through Ellis Island and more good links