First Name:

Primary Email:


we keep your email and name private

Zimtsterne

Zimtsterne is a Cinnamon nut cookie. The name means Zimt=Cinnamon and Sterne = Stars.
Ingredients;

3 egg whites
2 cups confectioners sugar
1 and 1/2 Cups Ground Almonds
( a nut grinder is preferred or pulse on a food processor. Don't turn them to mush! )
Grated zest of 1 lemon
2 tsp. lemon zest
2 tsp Cinnamon
sugar and flour for rolling out

1 cup approx. sliced almonds
6 marachino cherries
Whip the egg whites till they form peaks
Gradually add the sugar into the stiff egg whites.
Remove a good half cup of the mixture and reserve to a bowl.
This will be the topping that you brush onto the cookie.
Add the ground almonds, lemon zest, cinnamon and blend.
Form into a dough.
Sift some flour and sugar onto the work table.
Roll out the dough to about 1/4 inch thickness.
First loosen the dough if it is stuck to the board and
put onto a freshly sifted area to prevent sticking.
Cut out stars with a star cookie cutter.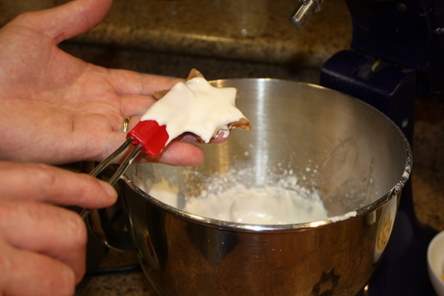 Brush stars with the egg white mixture. this can take
a bit of practice to get right. Lift the stars carefully
onto a sprayed cookie sheet or lined with parchment
or a silpat.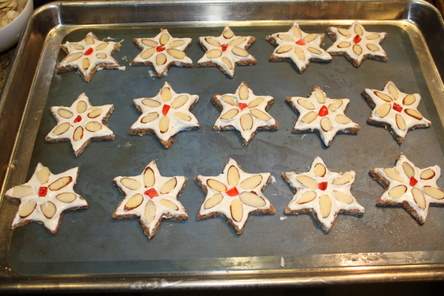 Decorate the tops with sliced almonds and a piece of marachino cherry if
you want.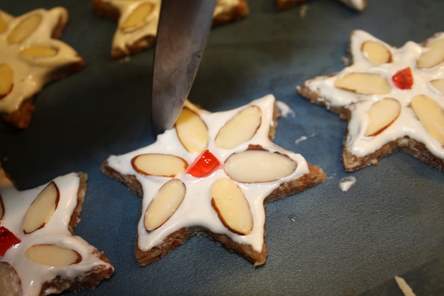 Clean up the meringue from the sides of the cookies with a knife.
Bake stars at 325 degrees till they are lightly browned on top, about 20 minutes.
More Recipes
Looking for another recipe?
Enter your recipe request and search
Where to shop for German Foods and Things
I order from the German Deli more frequently than ever.
I try to get in bulk to make the shipping dollars count.
Also there are sales all the time I like to take advantage of.
They are nice folks. If you don't believe me call them.
and tell them Stephen Block sent you from the German Goodies Newsletter.
Shop for German Food

Go here and search for all kinds of German Food

Shop for German Clothing,
Cooking equipment for German Food,
Fun German stuff

Do you have a question or comment on this recipe?
make sure you put the recipe name in the subject line
Listen to German Music
Listen to the Chicken Dance, and download it
CD's recommendations and links

Do you have a German Name?
Also what your German name means

Do you want to learn to speak a little German?
Learn one word a day.

Explore your German Heritage
Find out if your relatives came over through Ellis Island and more good links
Back to top
E-Mail The Webmaster stephen@kitchenproject.com
© 1998- to present The Kitchen Project
Last updated December 9, 2011