Chicken with
Schokoladen Sauce



This sauce has many layers of flavor, and spices up a roast or something like shredded pork or chicken.
Serves 2

2 medium size chicken breasts
1 Cup Onions, finely chopped
3 Tablespoons Olive oil or butter (I love to use butter in sauces as I like the natural taste of it)

Spice Mix:
1 teaspoon star anise
1 / 4 teaspoons cloves
2 teaspoons cinnamon
1 teaspoon freshly ground pepper
1 Teaspoon crushed lavender (an immune booster) optional
1 teaspoon salt

1 Tablespoon cocoa
1 Tablespoon sugar or honey
2 Tablespoons tomato puree
1 Tablespoon Hungarian sweet paprika powder
2 Cups Chicken stock or water with bouillon
garnish : 1 /2 cup sour cream and some chopped parsley

1 recipe of Geschabt Spätzle

printer friendly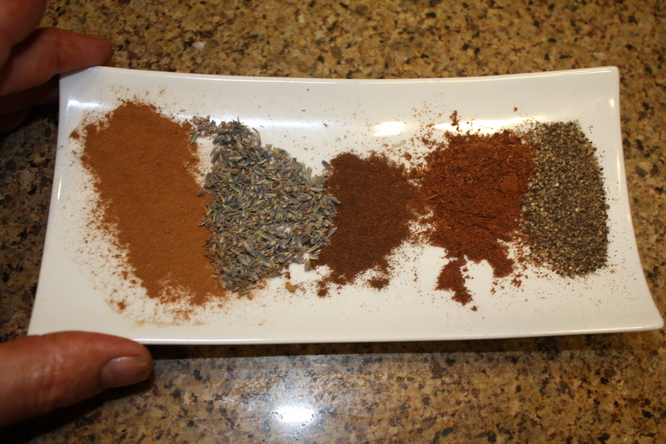 Here are the flavorful spices that make this sauce nice. Cinnamon, Lavender (optional), cloves,
Star Anise, Black Pepper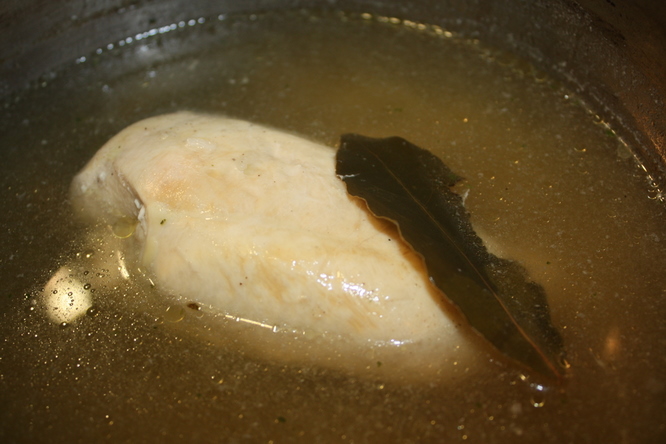 I simmer the 2 Chicken Breasts in water with a few onions and a bay leaf for 1 hour.
Reserve 2 cups of the stock for the sauce.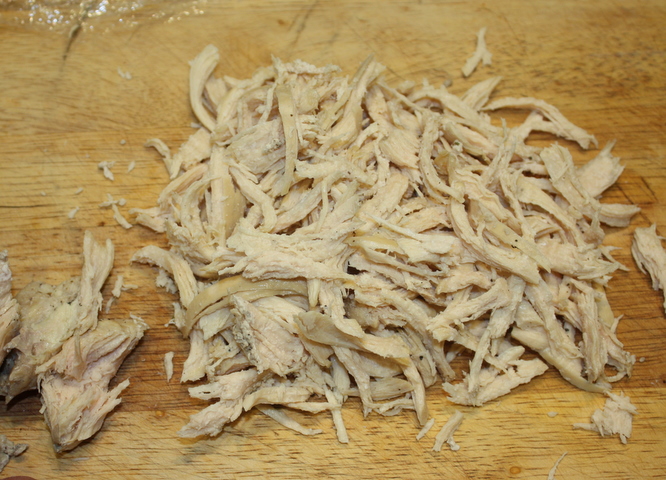 I shred the chicken by dragging a fork through the chicken breast with the grain and gently "pull" the meat so that you get the shredded effect. You don't have to shred the meat you can just serve the chicken breast whole.
Once you do this though I think you will agree it is a lovely way to eat Chicken.

Chop the onions and place in a 3 quart thick bottomed saucepan.

add the spices while the onions are cooking , this brings out the flavor.
When the onions are golden, add the cocoa and tomato paste.

Add the paprika and stir.

Add the sugar or honey.
Add the stock and simmer.
If you like add some sherry or red wine.
In 15 minutes it will be ready and smell very nice.

Blend the sauce in a blender until it is smooth.

Make some Spätzle or noodles to go with this dish.
These are hand cut Spätzles called
Handgeschabt Spätzle

Go here for the recipe

When ready to serve. Heat the Spätzle first then the chicken by dunking the noodles in a sieve in boiling water. Lift and shake
off the excess water and dump them in a nice pile on the plate

Then put the sauce in a stripe right down the middle,
top with sour cream and chopped parsley if yo want.
More Recipes and Links
Enter your recipe request and search
Where to shop for German Foods and Things
I order from the German Deli more frequently than ever.
I try to get in bulk to make the shipping dollars count.
Also there are sales all the time I like to take advantage of.
They are nice folks. If you don't believe me call them.
and tell them Stephen Block sent you from the German Goodies Newsletter.
Shop for German Food

Go here and search for all kinds of German Food

Shop for German Clothing,
Cooking equipment for German Food,
Fun German stuff

Do you have a question or comment on this recipe?
make sure you put the recipe name in the subject line

Do you have a German Name?
Also what your German name means

Do you want to learn to speak a little German?
Learn one word a day.

Explore your German Heritage
Find out if your relatives came over through Ellis Island and more good links
Back to top
E-Mail The Webmaster stephen@kitchenproject.com
© 1998- to present The Kitchen Project
Last updated February 21, 2011