First off we are mostly talking about cooking raw bratwurst here
Raw uncooked

If you are using cooked bratwurst you are pretty much just heating them up on the grill to about 160 degrees internal temperature. There is not anywhere near as much flavor as a properly cooked bratwurst from the raw state.

Raw bratwurst has the advantage of being jucier than using a cooked bratwurst. the juices heat up and the natural casing holds them in till that first bite. ummmmmmm

If you feel confident about your BBQing abilites then you can go straight from package to bun on the grill. If you feel that you want some insurance that they will be fully cooked then try the
two step process.
Some folks just toss the brats on the grill. You just make sure the grill is clean and put some vegetable oil on a paper towel and wipe the grates so they don't stick.
Here is a nice tip;

If you don't have a brush to clean your BBQ then use a wadded up piece of foil and your tongs and it will clean the grates.
Charcoal or Propane?
Most Bratwurst enthusiasts I know like to use charcoal instead of a propane gas grill. They also tend to prefer lump charcoal instead of briquettes. This is a pure charcoal that has no additives to it to make it burn better.
I have had good luck with Kingsford, and they only use starch to bind their charcoal together, unlike some companies that add nitrates to it to burn better. I do like lump charcoal better if I can find it.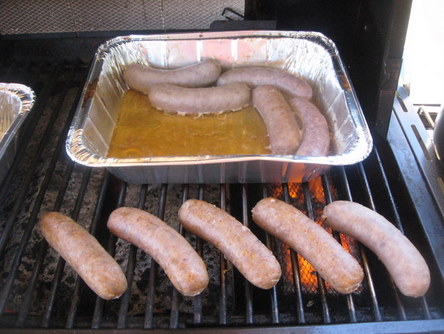 I find that using a propane grill is fine however. The one complaint that I have on bratwurst is that it can be a bit bland. So I like to put them in a pan of beer to heat before I put them on the grill. This is a 11 x 9 deep foil pan that is available at most major grocery stores in the states.
A metal baking pan would work fine also. I use any nice basic beer that is medium in color.
I don't use a light beer. For extra flavor some folks add onions to this beer marinade.
Turn the frequently so they won't burn. When the brats are firm to the feel then take them off the grill. If you are in doubt you can cut one open to see if it is done or after the juices set, which is about 5 minutes put a thermometer in one. I know this can cause some juice loss, but it will still be great and you'll feel confident that you won't be biting into a raw bratwurst.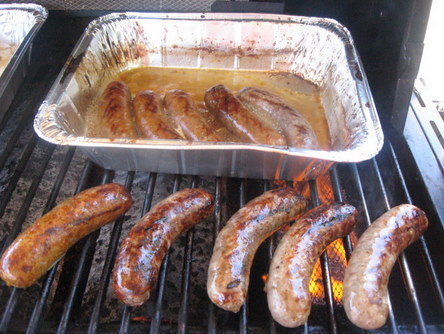 When they are done you can hold them back in the beer bath.
The perfect first step before the BBQ(Grill)
1. Cook it completely on a stove top.
My suggestion is to cook them in beer. Choose a nicely flavored ale or a beer that has lots of flavor and not a "lite".

| | |
| --- | --- |
| You can also follow these step by step instructions with pictures for | |
2.Then it's as easy to cook the bratwurst as it is a hot dog....just make sure the fire is not too hot. Brown and serve to make a nice crunchy skin and juicy center. You will know they are done when your mouth starts to water.
At the same time that you are BBQing the bratwurst make trays out of foil or buy something similar and put your kraut and grilled onions on the edge of your BBQ.
This 2 step process insures that you won't end up with a raw middle, or dark burnt skin by the time it is completely done.
What you don't want to do is cook them at too high of heat so the skin splits. This is the sign of a real amateur bratwurst cook.
Go here for more tips for a Grilling Bratwurst party,