Grilled Caesar Salad
with roasted shallot Caesar dressing
and Grilled Pears
For 4 people
ingredients:
2 Romaine heads of lettuce,
Roasted Shallot Caesar Dressing (see below)
4 slices of bacon cooked and crumbled
1 / 2 cup grated parmesan cheese
2 ripe pears
1 tablespoon vanilla sugar or cinnamon sugar
Dressing:
1 egg (*pasteurized)
1 tablespoon lemon juice
¼ cup rice wine vinegar
1 tablespoon Dijon mustard
½ cup roasted shallots
2 garlic cloves
1 green onion
2 Tablespoons Worcestershire sauce
1 cup olive oil
1 teaspoon kosher salt
1 teaspoon black pepper

In roasting the shallots and onions, cut them in half and put them face down in the roasting pan with plenty of olive oil. Roast the shallots so they caramelize and get a little color.

Add the dressing ingredients and blend on high till thick.
Heat the BBQ to medium high heat.
Either brush the Romaine lettuce or spray it with olive oil.
lay the Romaine face down on the grill.
Cook just enough to lightly wilt the lettuce and put a little char on it.
Brush the top of the Romaine lettuce halves and flip them over.
lightly wilt the other side.
Remove to a platter.
Grill the pears either cut in quarters or in half like the one in the fore-front, and then cut later for serving. Brush or spray the pears with olive oil and grill till lightly brown marks are on the pears. dust with the vanilla or cinnamon sugar.
Serve a half romaine on a plate and top with dressing , divide the bacon crumbles and parmesan cheese and sprinkle on top. Serve 2 pear quarters each.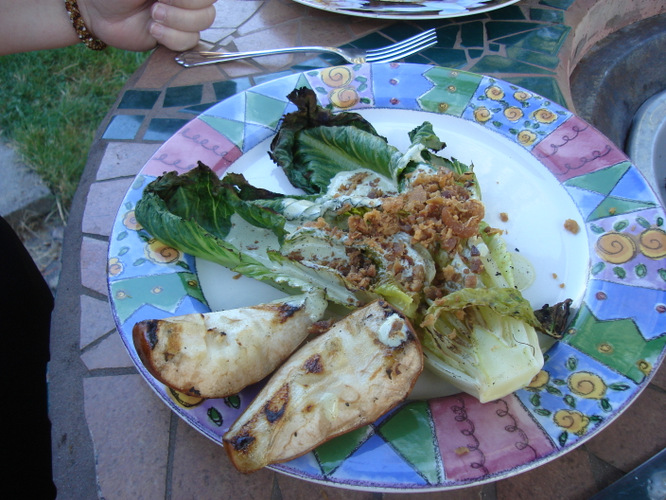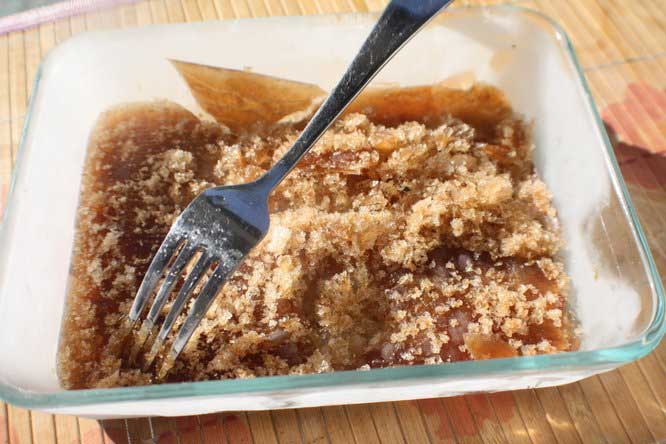 Alton Brown likes to top this charred Caesar salad with frozen shaved vinegar.
Just pour 1/2 cup of vinegar like sherry, champagne,balsamic or whatever in a pan and freeze for a few hours at least.
Take a fork and shave crystals and top your grilled Caesar salad with a little.
Food History Course
5 free E-Lessons
Come Explore with me
The History of Food

Have you ever wondered as I have.....

Who invented the first "Caesar Salad"?

How about the first salad or what was the first salad dressing?

How did Salad get the name Salad?

We explore different topics like famous restaurant dishes, famous fun foods like popcorn, famous Menus like Elvis's wedding reception, and popular food dishes that were invented by accident. Also tools and resources, that you can use to find information on different food and their origins
Just sign up here and you will get your first lesson instantly.