Grilled Caesar Salad

n
This has the same effect that a wilted salad has and the core tastes wonderful!
For 4 people
ingredients:
2 heads of romaine hearts or other firm lettuce
1 teaspoon of your favorite seasoning salt
Olive oil spray
1 cup Caesar dressing, healthy Caesar dressing, or one of the dressings from the Caesar Salad Recipe page.
4 Tablespoons bacon bits.
4 oz, about 1 / 2 cup loosely packed , hard Parmesan, such as Reggiano
12 Tomato slices halved
Croutons if desired.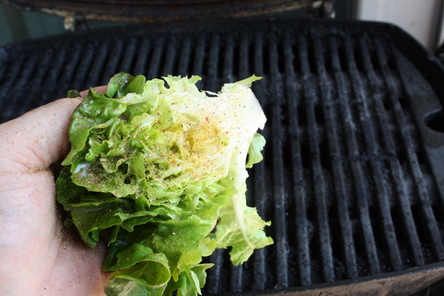 Preheat the grill to medium to medium to high
1. Spray the heart of lettuce with olive oil spray or brush with good quality olive oil.
2. season with a sprinkling of season salt.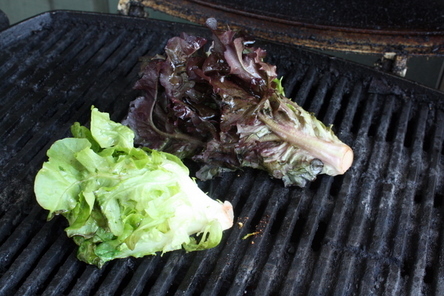 Place face seasoned side down on the grill.
Season this side of the lettuce and sprinkle with season salt.
Brown the edges of the lettuce slightly and the lettuce is slightly wilted.
You don't want the lettuce cooked, but heated and lightly tinged.
This way the core of the lettuce becomes quite delicious.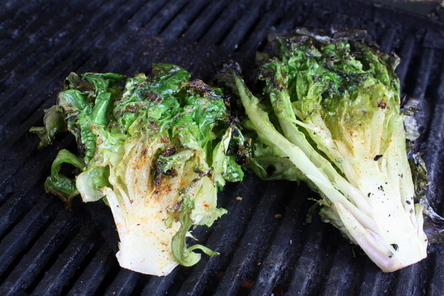 Turn the hearts over and lightly brown the other side.

Top with 4 tablespoons of dressing, top with 2 tablespoons parmesan, 1 tablespoon bacon bits, and 6 half tomato slices. We didn't use croutons but add if you like. You may want to make some like in the original Caesar salad recipe.
Food History Course
5 free E-Lessons
Come Explore with me
The History of Food

Have you ever wondered as I have.....

Who invented the first "Caesar Salad"?

How about the first salad or what was the first salad dressing?

How did Salad get the name Salad?

We explore different topics like famous restaurant dishes, famous fun foods like popcorn, famous Menus like Elvis's wedding reception, and popular food dishes that were invented by accident. Also tools and resources, that you can use to find information on different food and their origins
Just sign up here and you will get your first lesson instantly.