Healthy Caesar Salad
I have worked long and hard on this and hope that this works as well for you as it does for me. You can of course adjust or leave out the salt and add a no salt seasoning.
This is about 8 servings,
2 Tablespoons per serving
Ingredients:
1 tablespoon lemon juice
2 tablespoon rice wine vinegar*
1 tablespoon Dijon mustard
2 garlic cloves
1 green onion chopped coarse
2 tablespoons Worcestershire sauce
1 /3 cup olive oil
1/ 4 cup water
1 teaspoon kosher salt
1 teaspoon black pepper

Optional:
1 teaspoon Xanathan Gum (to thicken)
4 anchovies, in the place of salt
croutons, about 1/ 2 cup per person. You could make some out of high fiber bread if you like.
*if you use another vinegar besides rice wine, reduce it by half.

Directions:
Blend all these together in a food processor or blender.
I really like the Magic Bullet, (at the top left of the picture)it is easy to clean and perfect for 2 to 4 people.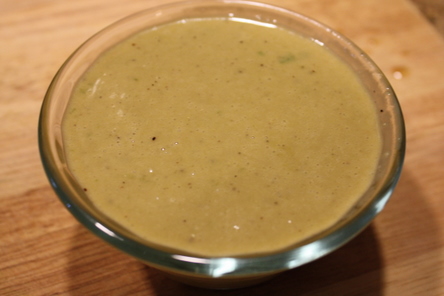 This is the color and texture of the dressing.


Traditionally the Caesar salad uses baby romaine leaves and not chopped romaine. You can of course use any greens.
The hard parmesan reggiano is really quite low in fat comparably
I always like to add some fresh grated pepper to this dressing.
Parmesan Reggiano Cheese the hard kind is about 40 calories for an ounce which is pictured above and about 3 grams of fat.
Arrange the romaine heart leaves in the bowl
When ready to serve toss the dressing with the salad.
I would use 2 tablespoons of dressing per serving.

Food History Course
5 free E-Lessons
Come Explore with me
The History of Food

Have you ever wondered as I have.....

Who invented the first "Caesar Salad"?

How about the first salad or what was the first salad dressing?

How did Salad get the name Salad?

We explore different topics like famous restaurant dishes, famous fun foods like popcorn, famous Menus like Elvis's wedding reception, and popular food dishes that were invented by accident. Also tools and resources, that you can use to find information on different food and their origins
Just sign up here and you will get your first lesson instantly.