Potato Knödel


(Using half raw and half cooked Potatos wrapped around croutons)
Ingredients;

4 Baking Russet potatoes
3-4 eggs beaten
1 /2 cup flour
1/2 cup mashed potato flakes or potato flour
2 teaspoons salt
1 teaspoon pepper
2 tablespoons chopped parsley
2 tablespoons chopped chives (optional)
16 - 24 croutons depending on size


Directions:
1. Roast 2 of the potatoes, or microwave, and let sit for 10 min.

2. Rice the potatos or mash in a bowl.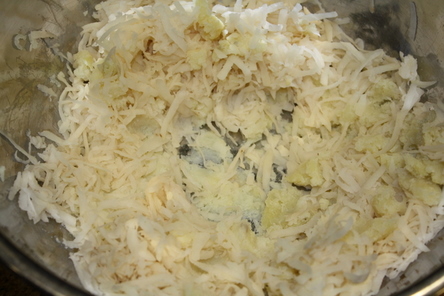 3. Peel and grate the potatoes with a medium shredder into a bowl with

Add the eggs, flour, potato flakes salt, pepper, parsley and chives.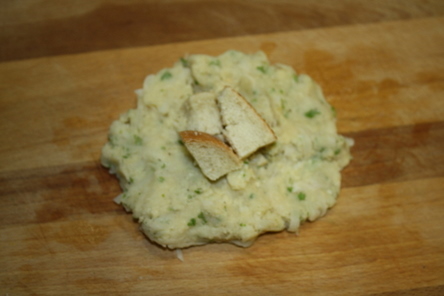 I divided the dough into 8 balls and then flattened, and added 3 croutons.
This depends on the size of your croutons.
Form the dough over the croutons and seal into a ball. Notice how nice and firm the dough
stays together. If it doesn't then add a bit more potato flakes.


SImmer the balls in boiling salted water for about 15 -20 minutes. Don't over boil or they
will split.
The combination of the raw and cooked potatoes makes a nice texture as well as unique flavor that you don't get with just cooked potatoes.
Here is what they look like on the inside. The croutons add texture but also hasten the cooking time. If your making lage dumplings, imagine how long they would take to cook all the way to the center.
Serve with a nice stew, soup or a roast with gravy.
Here I froze the leftovers. Wrap the dumplings in plastic wrap and place individual servings in bowls that you can lightly thaw to pop out of the glass dishes. then wrap and store in Freezer.
Do you have a question or comment on this recipe?