2 lbs. trimmed green beans
4 heads dill
4 cloves garlic
1 tsp. cayenne pepper
2-1/2 cups vinegar
2-1/2 cups water
1/4 cup canning salt (don't substitute regular salt, this is chemistry!)
Pack beans lengthwise into hot jars, leaving 1/4 inch head space. To each pint, add 1/4 tsp. cayenne pepper, 1 clove garlic and 1 head dill. Combine remaining ingredients in a large sauce pot (non-reactive, like an enamel or glass pot). Bring to a boil. Pour hot liquid over beans, leaving 1/4 inch head space. Remove air bubbles. Adjust caps. Process pints and quarts 10 minutes in boiling water bath.
donated by Merrily Shirey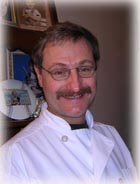 Your Host Stephen Block

Susan's Daily Tips Newsletter
find great household wisdom here from a domestic diva

Recipes from a German Grandma
Find a lost recipe your grandma use to make lots of German-American recipes posted

Food History
Have you wondered about where a certain dish got started?
On going Projects
Some of my Favorite Projects

Making Vanilla Extract