Is there a Munich Oktoberfest in your Future?
Oktoberfest starts in mid September and ends the first week in October.
Originally it started in mid October but since it is the largest outdoor festival in the world they feel they
can beat the onset of bad weather a month earlier.

Last few years my September's have been so busy I have done a very poor job of telling you
about this wonderful event. That will change this next year!

I know many native Germans and those that have gone in years past say ohhh it is so crowded!
Well you can get a good taste by looking down below.
The first Oktoberfest was in 1810, and it was basically a horse race put on
in honor of the marriage of King Ludwig and Princess Therese von Sachsen-Hildburghausen.
More about the History of Oktoberfest here
Over the 200 years this event has grown.
This is an aerial view of the Oktoberfest grounds called the
Theresienwiese roughly means Therese's Meadow or lawn or fairgrounds in this case.
Pronounced ...sort of like ....Tear-REESian-visa for the American tongue.
What started as a horse track grew into 4,500,000 square feet of Huge festival tents, rides, games and
of course food and beer. Almost 7 million liters of beer are consumed while listening and dancing to great
Oom pah style and other spirited music.
To Bavarians and other veterans of Oktoberfest
It is simply called "Wiesn"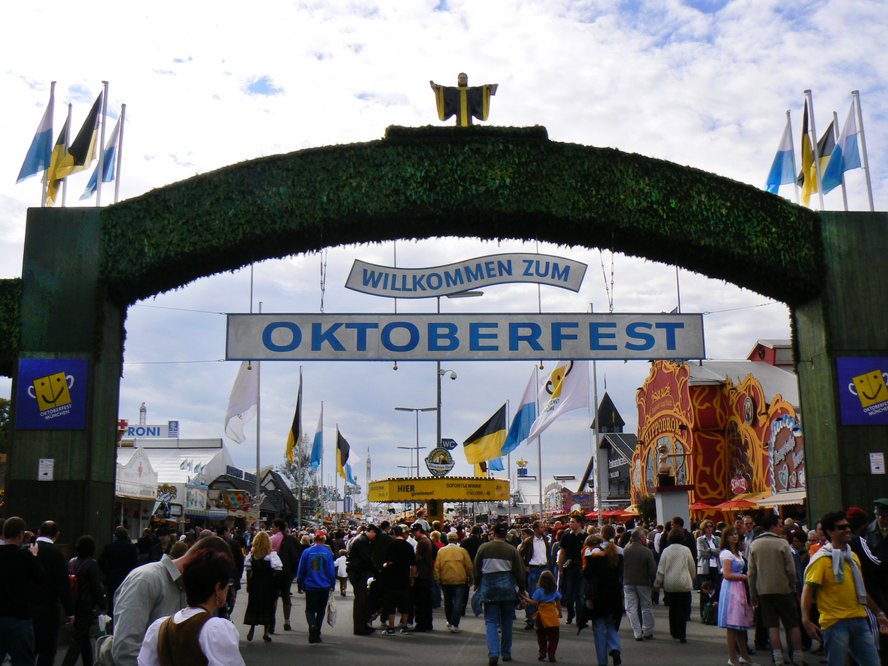 Here is the main entrance you will be walking through.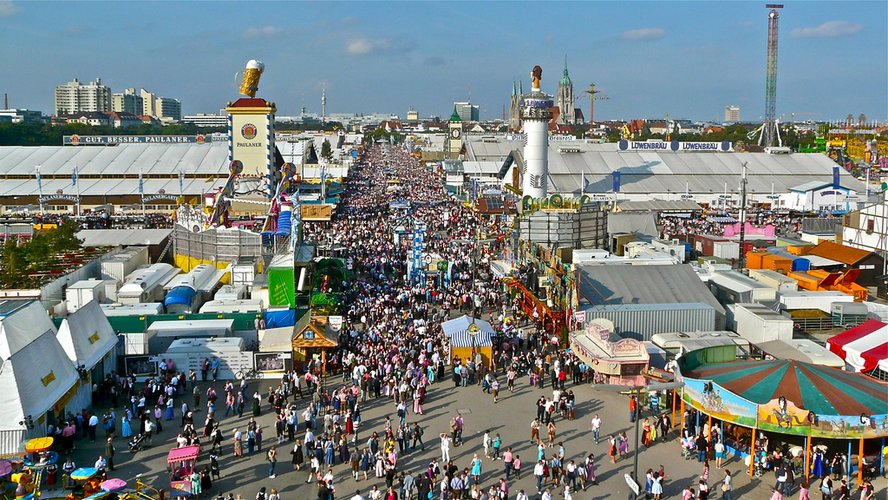 Inside the Theresienweise along with rides and food, the Festzelt, ( Festival Tents) .
Inside the Thereseweise one of the best ways to experience Munich Oktoberfest is to
go into a Festzelt. One of them is called the Hacker Festzelt.
Hacker Festzelt is one of the largest tents with room for almost 7000 people.
The revolving stage in the middle of the tent is a unique attraction at the Oktoberfest, and the openable roof in the back area on the gallery as well. From 2000 until 2004 Oscar Award winner Rolf Zehetbauer painted the tent's interior on 13,000 square feet ceiling.
The revolving stage has a mellow oom pah band during the day and a really rockin in the evening.
(click picture to enlarge)

The ceiling is painted with clouds by
Oscar Award winner
Rolf Zehetbauer

(click picture to enlarge)

Lebkuchen Hearts are everywhere adorning food shops and around the necks of festival goers.

(click picture to enlarge)

Night time in the Hacker Festzelt tent everyone holding up lights.

(click picture to enlarge)

The huge festival menu for this tent
Looks delicious!!!!

(click picture to enlarge)

The outside of the tent at night.

(click picture to enlarge)
This is not easy. These are Liters of Beer, called a Mass in German.
One of the fun foods at the festival is the
Laugenbrezel
(Bavarian style pretzel)

Laugenbrezel gets it's name not from how large it is but from how it's made
using of all things lye as a dipping agent, to give it that special crust.
Yes the same Lye as is used to clean drains. However in this day and age
I recommend getting a food grade lye.


Legend has it that it was an accident.

Although other regions of Germany have their stories of how it was invented, the Laugenbrezel is accredited to the Bavarians.
The saga goes that on the morning of February 11, 1839, Anton Nepomuk Pfanenbrenner, the baker for the Munich Royal Café,
was preparing some sweet pretzels for his guests. He wanted to brush the pretzels with sugar-water, but accidentally used the Natronlauge, the sodium hydroxide solution being used to clean and disinfect the bakery countertops. The baker decided to bake the pretzels anyway. The pretzels came out of the oven with a unique brown crust, soft center, and delicious taste. His guests were very pleased and he became the "pretzel hero."
How to make Pretzels
(Brezel)

How to make any size Pretzels
You use the same recipe and one recipe of this dough will make 2 large pretzels.
~~~~~~~~~~~~~~~~~~~~~~~~~~~

When you order a Laugenbrezel be sure to get an order of ...
Obatzda
( a special cheese spread)
when you order a pretzel you can order a side of this wonderful dip called Obatzda.
It is generally a camembert that that is seasoned and whipped smooth.


Go here to make Obatzda Cheese dip with step by step pictures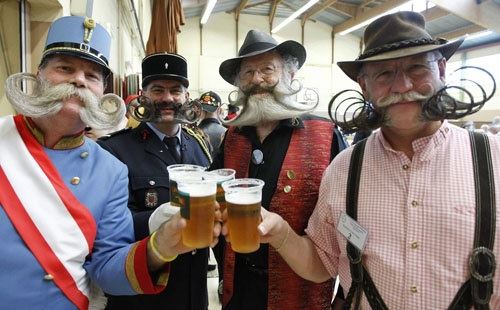 ~~~~~~~~~~~~~~~~~~~
Ge-SHNET-zel-tes
There is no accent on the last syllable.
Pork Strips Simmered with Mushrooms
in Sour Cream Gravy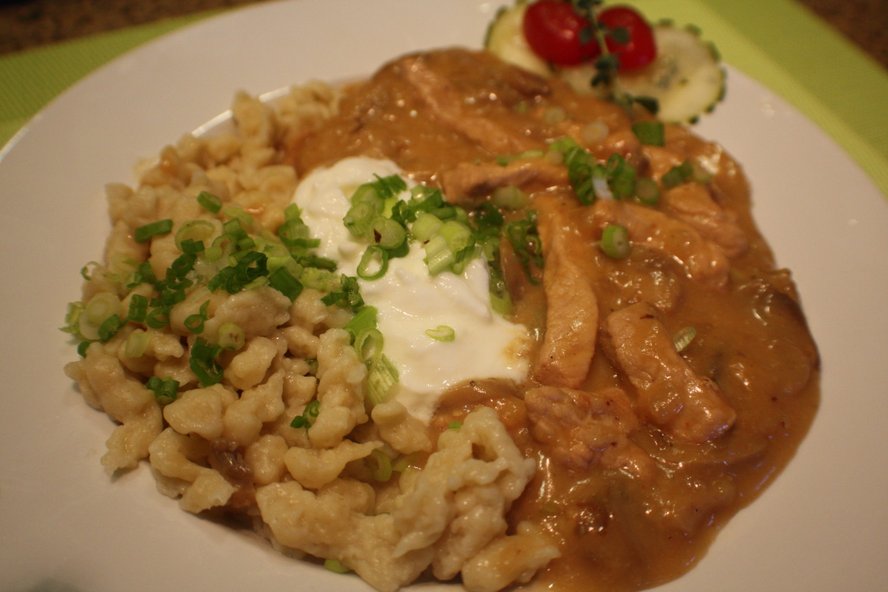 This dish is very close to a Stroganoff, that was a similar technique just that Stroganoff was probably named after a someone from the famous Stroganov family in Russia, Like Schnitzel you can put variation and imagination to make this a weekly selection on your menu.
Come into my Kitchen and let's make Pork Geschnetzeltes
with step by step pictures.